Everything we do grows out of strategies grounded in truth. Our dedication to wide open thinking™ drives results for our clients.
Every point of contact between customer and organization has an impact. Our approach focuses on driving behaviors. From digital marketing that attracts new customers to social media strategies that elevate engagement, bold creative that breaks through the clutter, storytelling that builds advocacy or sales training that will energize your team, we help you meet your most pressing challenges.
Here's how we deliver results: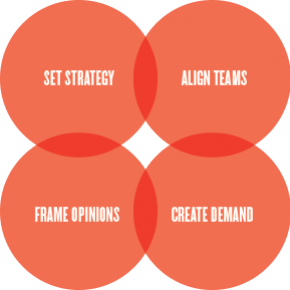 SET STRATEGY
Getting where you want to go starts with knowing where you are.
ALIGN TEAMS
It's easier to succeed when everyone works toward a common goal.
FRAME OPINIONS
Listening and learning changes more minds than megaphones and mallets.
CREATE DEMAND
Effective product and brand conversations empower and motivate buyers.
HOW WE DO WHAT WE DO
Discovery to delivery with dedication for each and every project.  
CREATIVE
Brand Strategy
Web Design + Development
Concepting + Copywriting
Video + Production
Digital Marketing
Digital Advertising
Data Strategy + Management
Analytics + Insights
Performance Media
Social Media
Public Relations
Media Relations
Influencer Relations
Issues + Crisis Management
Internal + Member + Corporate Communications
Events + Experiential Marketing
Content
Content Strategy + Customer Journey Mapping
Cross Channel Campaign Integration
Content Creation + Storytelling
Media Engagement
Analytics + Insights
Strategy + Buying
Measurement + Stewardship
Consulting + Learning Services
Go-to-Market Strategy
Market Research
Leadership + Board Development
Sales Training + Development
Key Account Strategy
Our Board of Advisors
This unique and distinguished Board of Advisors meets in person on a regular basis and often with full board/ select client working strategy round table sessions to address specific client opportunities and challenges.
GET IN TOUCH WITH US.
WANT TO WORK TOGETHER? US TOO.
CONTACT US

>
Keep Up On News & Insights
Join Our Email List
Subscribe

>