FLM Harvest Helps AgriGold Plant Seeds for Growth as its New Agency of Record
AgriGold, a provider of elite seed corn hybrids and select soybean varieties, has named FLM Harvest its marketing-communications agency of record after an in-depth, industry-wide search. Through the new partnership, FLM Harvest will support AgriGold's growth with a broad range of innovative marketing services.
"The FLM Harvest team is thrilled to add AgriGold to our roster of clients," said Rob McClelland, FLM Harvest president and chief executive officer. "It's a perfect fit for our business, and we look forward to helping them continue gaining momentum as the seed of choice among farmers."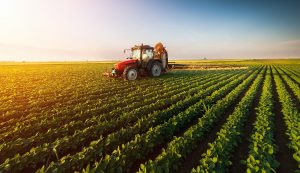 "Each season, growers, on average, select two to three seed brands for planting. We want to ensure AgriGold is always one of their top two preferences," added Phil McCutchan, AgriGold marketing manager. "We chose FLM Harvest to collaborate with us on creative and aggressive marketing initiatives to achieve that goal."
"The agricultural marketplace is changing, and it impacts how we reach and interact with our customers, prospects and partners," observed Bryan Brochin, vice president of marketing and business development for AgReliant Genetics LLC, the global genetics company that owns AgriGold. "FLM Harvest is the right partner to help us align with this market and maximize our efforts."
AgReliant Genetics is one of North America's largest seed companies. As part of this agency review process, AgReliant also selected FLM Harvest to provide a variety of integrated marketing elements for their seed treatment and precision ag businesses.
About AgriGold
For over 80 years, AgriGold has given growers the best seed corn in the industry, backed by proven results and trusted advice. This year, we are proud to expand that commitment to include select soybean varieties in our exclusive portfolio, while continuing to provide the agronomic advice our customers expect. AgriGold means more than just high-yielding seed. It means you always have a trusted partner in your field. For more information, visit agrigold.com.
AgriGold's parent company is AgReliant Genetics LLC. Headquartered in Westfield, Ind., AgReliant Genetics is an innovative seed company committed to delivering high-quality seed, providing exceptional service and creating consistent customer value. Created in 2000 as a joint venture between the international seed groups KWS and Limagrain, AgReliant Genetics is ranked as one of the largest field seed companies in North America.
About FLM Harvest
FLM Harvest is a strategic consulting, marketing and communications agency that helps set strategy, align teams, frame opinions and create demand to deliver far-reaching results for clients in the pet, agriculture, food and lifestyle markets. The company has more than 80 team members located in operating locations including Columbus, Ohio; Indianapolis, Ind.; Kansas City, Mo.; Minneapolis, Minn.; Portland, Ore.; and Washington, D.C.
GET IN TOUCH WITH US.
WANT TO WORK TOGETHER? US TOO.
Contact Us

>