FLM Harvest Earns Three ARC Awards
Incredible clients inspire us to create award-winning work. We were honored to recently accept three Golden ARC Awards at the Agricultural Relations Council (ARC) annual meeting in Louisville, Ky. The Golden ARC Awards promote excellence in agricultural public relations based on the best practices for public relations and public affairs campaigns and tactics.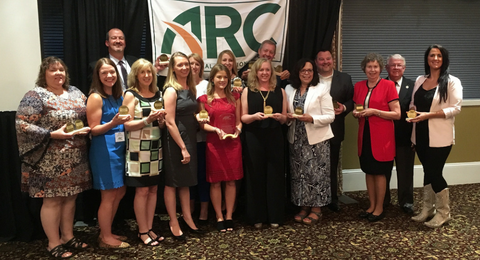 We took first place in the tactics division for video programs with the film, "Nutrients for Life: In the Classroom." The video for our client, Nutrients for Life, highlighted the importance of using fertilizer responsibly to help grow healthy crops, increase food production and feed the world's growing population. Today's students are tomorrow's leaders, so helping younger generations understand how farmers use responsible agricultural practices is essential to our industry.
In the campaign division for public affairs, our work with FMC on "Pyrethroid/Bifenthrin Registration Review Advocacy," received first place honors. The purpose of this campaign was to encourage agricultural stakeholders to submit comments to the Environmental Protection Agency regarding the agronomic value and environmental attributes of bifenthrin, the company's leading pyrethroid active ingredient.
Last but not least, we earned a merit award in the campaigns division for corporate social responsibility and sustainability for, "PPO Stewardship PR Campaign." This advocacy campaign positioned FMC as the expert on PPO-resistant weeds and herbicide resistance management, while elevating FMC's Authority® brand herbicides and Anthem® MAXX herbicide as solutions.