How to Create Effective Social Media Ads
Social media can be a competitive space but, these days, it's an essential component of any good marketing mix. It provides a unique opportunity to meet your customers where they're at and join them in conversation. By creating and placing strategic ads, you can cut through the clutter and connect with your target audiences in new ways.
What's the best strategic approach? FLM Harvest's dynamic duo, Social Media Strategist Jordan Nelson and Content Manager Kayla Keyser, share their integrated five-step approach for creating effective ads.
Do your research
Get to know your audience and how they relate to your brand. Where do they live? What are they interested in? Determine their demographics and build ad audiences that align with them. Then, decide what goals you're after. Are you trying to spread awareness of your brand or grow your followers? Do you want to boost engagement or drive traffic to your website? Not all ads are created equal, so design them around a specific goal.
Create the content
Once you have a good grasp on your strategy, identify the key messages you want to communicate and craft content accordingly. Make sure your message is clear by keeping captions succinct and incorporating one strong call to action in each. Remember, your ads will be up against feeds filled with other competitive content, so make yours jump off the screen with creative copy and high-quality images.
Optimize for each channel
Users consume and interact with content much differently on Twitter than they do on Facebook or Instagram, so your ad strategy should reflect the channel it appears on. Take a look at the platforms you're using and adjust your approach to align with each one's unique advantages, restrictions and audiences. Make sure your images are properly sized for each channel and the copy is written with the right tone and messaging.
Place the ads
Decide where your ad will be most effective. In the feed? As a story or within messenger? Consider your budget and the shelf life of your content to determine how long the ad should run, then set the campaign duration from there. It helps to run several variations simultaneously, so you can compare how audiences, creative assets and copy compare.
Monitor and modify
While the first four steps will prepare your ad well, it's important to regularly monitor performance to learn what really works for your audience. Social media is always changing with new tools, trends and algorithms, but keeping a consistent eye on performance and making necessary modifications along the way will keep your paid efforts effective.
To bring this strategy to life, let's dive into an example. Our client, FMC, launched a new product this year: Lucento™ fungicide. To spread awareness and support sales, we ran social ads on FMC's Facebook, Instagram and Twitter platforms. With help from these efforts and the rest of the broader campaign, sales outpaced production in Lucento fungicide's first few months on the market and sold out quickly in many locations. Here's a look at how the social ads were created.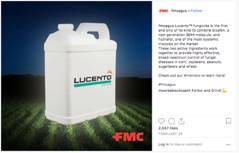 First, we put ourselves in the target audience's shoes. Since Lucento™ fungicide is only offered in specific states, we geotargeted social users within those regions. We also considered the specific crops it is labeled for, identified key words our target audience would be interested in and set demographic parameters.
Then, we crafted our content. Since the goal was to build awareness, our call to action clearly encouraged them to visit the Lucento fungicide landing page to learn more. Or, since FMC products are sold through retailers, we encouraged them to talk to their retailer to learn more or make a purchase. We used a mix of videos, still images and GIFs created by our design team to catch eyes in the feed.
With the content outlined, we then optimized it for each channel. Since audiences differ slightly among them, copy was tailored to speak effectively to each. We also played to the strengths of each platform. For this campaign, Facebook and Twitter drove more website traffic and Instagram was great for engagement.
Our social strategist allocated the spend for each ad based on the overall budget. For ad duration, two weeks is a good benchmark that will provide enough time to gather data to inform the strategy later on. With this two-month campaign, we ran each ad for 1-2 weeks, testing how different creative assets, calls to action and targeting strategies performed.
With our goals in mind, we monitored how the ad variations performed and adjusted to maximize results. We noticed our copy was most successful when it clearly communicated benefits to the grower and was written in a personal versus promotional tone. In terms of imagery, we saw still images were more successful in driving traffic and engagement, but videos were more successful in reaching users and spreading awareness, so we were able to apply those learnings to the channel optimization step.
GET IN TOUCH WITH US.
WANT TO WORK TOGETHER? US TOO.
Send Message

>