Need a Customer Experience Boost? Here's Where to Start.
Courtney Stucker is a summer intern at FLM Harvest, working closely with our content team. As part of her work, she's delved deep into researching best practices for fostering a strong omni-channel customer experience program. She shares her perspectives.
Welcome to the "age of the customer."
It's no lie that customer experience (CX) has become the golden ticket to creating a successful brand. However, only 49% of customers say that today's companies provide a good customer experience. That means there is still much room to grow. Marketers have started to realize this and are throwing out old CX strategies. These new trends have not only accelerated during the pandemic, but many experts believe customer experience has taken on new dimensions.
The bottom line: CX is no longer a side project.
While some principles of good customer service still apply, the world is shifting away from traditional buyer journey touchpoints and the same old advertising tactics. Instead, a customer's perception is more contingent upon how well they can interact with you in a virtual environment and if they want to share the experience with others. They have the power of the worldwide web on their side.
Between crafting the perfect website to trying out augmented reality, there are hundreds of methods and techniques marketers can use to complete the CX puzzle. Here are three tips to guide your strategies.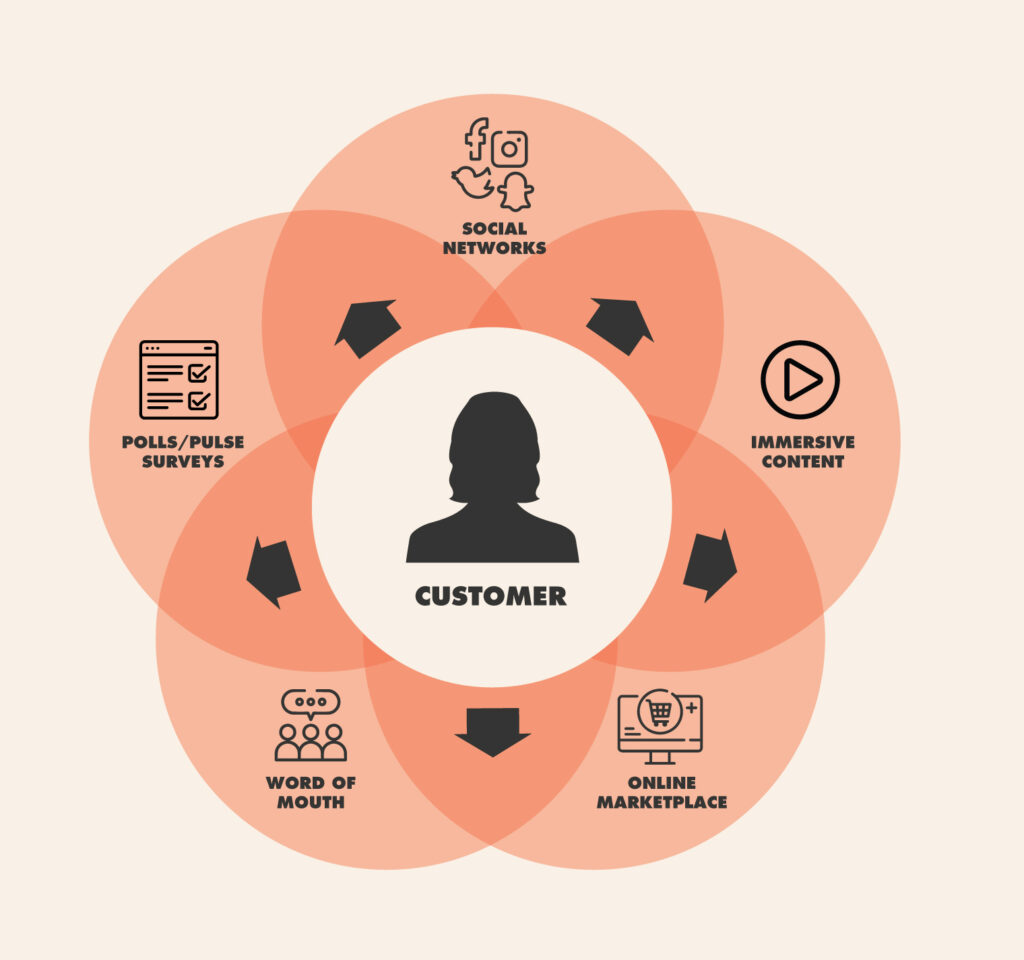 Listen and get to know your customers.
In the ever-changing world of marketing, listening to customers is often overlooked. What are your customers' values and their growing expectations? Do they resonate with your brand's values and current goals? What challenges are they facing at the moment?
For example, in a McKinsey April report, researchers found that 64% of people were experiencing mental health challenges and 39% were experiencing financial hardships due to the pandemic. How are you reorienting your business' values to help your customers? Is your brand actually getting involved in the community or are you simply restating the same advertising message of empathy that everyone else is? You have to weave empathy and action into your brand strategy.
To get started, brainstorm new ways you can engage with audiences and actively seek feedback. For instance, get creative with social media polls, jump on trending topics that matter to your customers or ask them questions they might find interesting.
Listening doesn't have to pertain only to social media. Think up fresh ways to do in-depth research. Some of our favorite ideas include asking employees for their opinions or investing in feedback software. Just make sure you are listening to both the praise and the problems. By being proactive in your efforts, it shows your brand's dedication to being transparent and sincere toward your customers' needs.
Here's another simple idea: Seek out conversations. While conducting 30-minute research interviews for our Cotton Incorporated client, we learned it pays to focus on the fundamentals. The discussions shared barriers and perceptions impeding higher demand for their product. As a result, we helped Cotton Incorporated develop a new campaign to illustrate to customers why whole cottonseed is an excellent feed ingredient for cattle.
Build an immersive omni-channel brand experience.
Establishing your brand over multiple channels is no longer just a bonus to achieve, but an expectation and requirement.
Across all virtual and in-person touchpoints, the content should be cohesive and engage the audience. In fact, 91% of users say they prefer interactive content over its static counterpart. Long story short, make the content unique, make it consistent with your brand and make it shine across all online channels.
Provide great customer service in a digital space.
Our lives have changed so dramatically that the old definition of customer service is out the window. There are now more challenges involving self-service, cost-cutting and digital dynamics than ever before.
In times of downturn, customer service should be emphasized, not forgotten. By keeping a customer-centric mindset, brands should focus on how to make people's lives easier. Think about how you can help them feel confident about buying your product when everything else feels uncertain or how you can find ways to save without sacrificing CX.
Our sales training experts help clients answer those questions every day. For one of our animal health clients, we assisted in shifting customer service strategies for farm animal health products so they could communicate more efficiently with buyers and organize virtual learning opportunities. Read more about it here. A few other solutions to try might be incorporating chatbots, increasing video tutorials, or engaging more with audiences on social media. 
Wrapping up.
As CX moves further into a complex online environment, embracing strategies like these will help you build relationships and increase customer loyalty. Incorporate new tech, but make sure it's not detracting from meeting the basic human needs of your customers.
GET IN TOUCH.
WANT TO WORK TOGETHER?
Contact

>