Seed to Succeed
A Program Serving Food, Ag & Lifestyle Nonprofits.
FLM Harvest is a strategic consulting, marketing and communications agency that helps set strategy, align teams, frame opinions and create demand for clients in agriculture, food and rural lifestyle markets. As part of our commitment to these sectors, we're launching Seed to Succeed: a pro bono program dedicated to helping non-profits that are connected to our passions grow and thrive.
We're seeking partners located within the U.S. who are open to creative, strategic thinking but limited by budget and resources. Our team of experts is excited to help your organization tackle challenges related to management, strategic planning, communications or marketing by giving you something we all need more of: Time.
FLM Harvest will donate up to $75,000 of time (approximately 460 hours of time) to one non-profit organization that serves agriculture, food or rural lifestyle sectors. We'll choose the winning organization based on the merit of the application, need and scope of work. See below for judging criteria and winner selection process.
Here are the services we offer:
Management Consulting such as strategic planning, research or board development.
Creative including print, video or digital concepting and design.
Digital including website development, social media planning or search engine marketing plans.
Content including online strategy, blogs, or website copy.
Media engagement and buying for print or digital outlets.
Public Relations including media relations strategy, reputation management media training or influencer communications.
Please note any tactics that involve hard costs such as video production, media placement, printing, agency personnel travel, etc., are available, but must be paid by the organization. All work must be completed in 2020.
To be eligible, an organization must be a certified 501(c)(3) organization formed in one of the fifty (50) United States or the District of Columbia, which services the agriculture, food or rural lifestyle sectors of the marketplace.
To apply for Seed To Succeed, please fill out the form below and submit required documentation between May 4, 2020 and June 30, 2020 at 5 p.m. CST. Only one application will be accepted per organization. Applications which are not submitted through the official application form below, which are incomplete or illegible, and/or are received outside the application period will be void.
In 2019, FLM Harvest donated $75,000 of in-kind services (approximately 465 hours of time) to two non-profit organizations that serve agriculture, food or rural lifestyle sectors. Those two organizations were Project Evergreen and Grow North MN highlighted in the below case studies.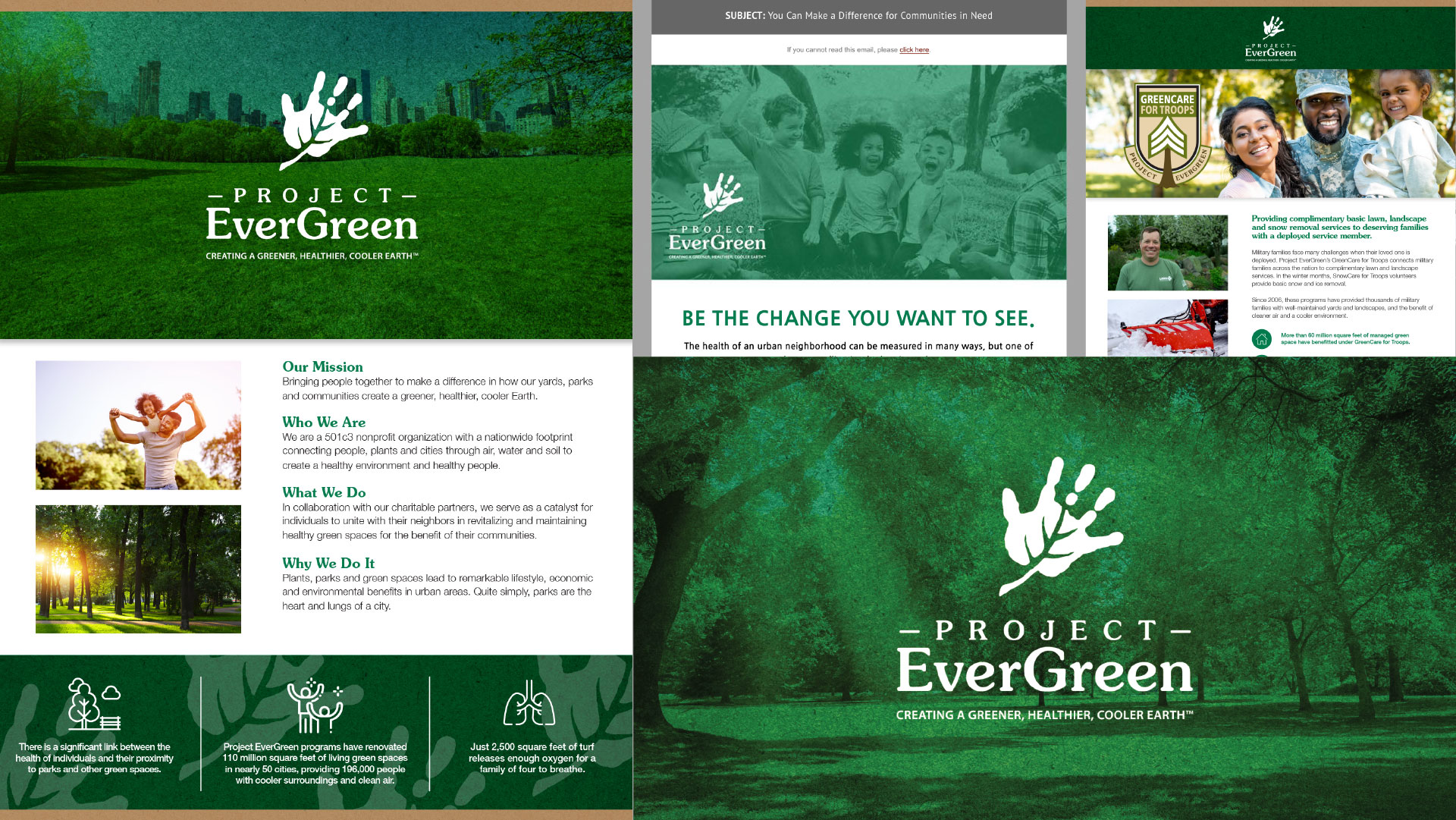 PROJECT EVERGREEN
Project Evergreen is a national nonprofit whose mission is bringing people together to create a greener, healthier and cooler Earth. The group works to revitalize parks and public green spaces in urban areas, and provide free lawn and landscape services to military families with a deployed service member. They do this through two primary initiatives: Green Care for Communities and Green Care for Troops.
The organization was selected to be part of Seed to Succeed and received pro bono services to enhance its overall brand creative, improve reputation management skills and optimize its social media presence.
Deliverables & Results
Updated printed materials that united their pillar initiatives under one consistent brand.
Created new display materials and collateral to stand out at the Green Industry Equipment Expo.
Enhanced social media presence through a comprehensive audit and strategic content calendar.
Hosted a comprehensive public relations webinar to enhance staff's interview and media relations skills.
Developed materials to support fundraising and internal communications through a new CRM system.
Client Feedback
It was amazing to have a partner to help us bring our vision to life and a fresh perspective to our dated marketing materials. It's made a difference in our trade show presence and has opened doors for our fundraising efforts. I'd encourage any non-profit to apply for this program. It'll pay dividends for our organization.
— Cindy Code, Executive Director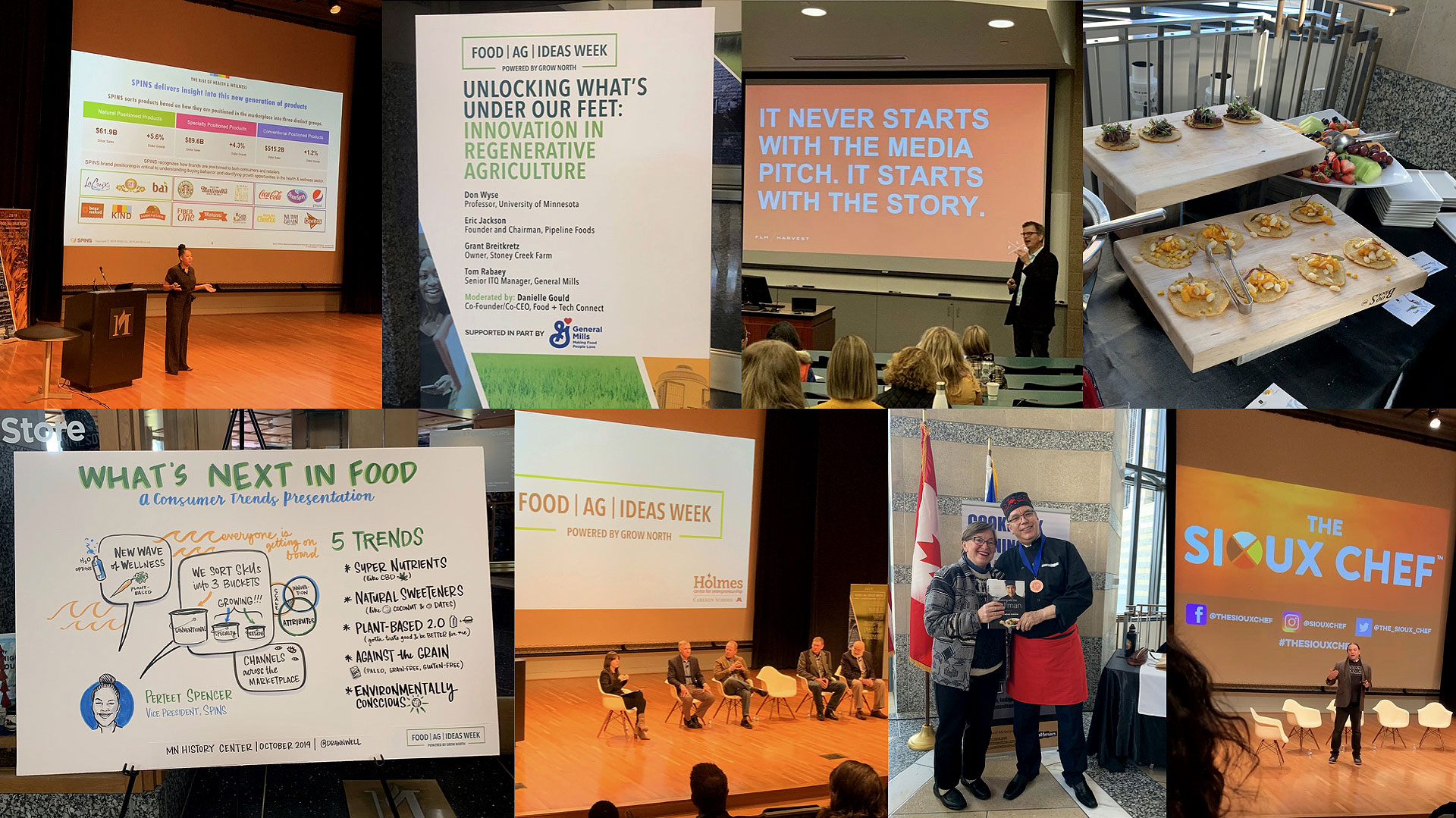 GROW NORTH
Grow North is an initiative of the Carlson School of Management to accelerate and support Minnesota's growing entrepreneur and innovation ecosystem in food and agriculture. Through its programming and events, Grow North works to create an interconnected, sophisticated, invested and equitable ecosystem to scale ideas, drive positive food system change and make Minnesota a globally known leader in food and agriculture entrepreneurship and innovation.
The initiative was selected to receive pro bono services as part of Seed to Succeed to support public relations and earned media activities around its premier event: The FLMH team was tasked with helping drive registrations and increase event coverage among local and national media outlets.
Deliverables
Pre-event press release
Day of conference media alert
Guest column prep/promotion
Key messaging updates
LinkedIn Advertising
Results
1,000+ attendees
2.3M unique impressions
38+ total media placements
28 local media placements
4 national ag media placements: AgDaily, AgriMarketing, Farm Credit Council Daily News and Successful Farming
2 national placements: AgFunder News and Esca Bona
Media outlets at FAI
Client Feedback
I was really impressed with the passion and energy the FLM Harvest team brought to the work and how they did everything they could to help make our event a success. I appreciate their commitment to our community through Seed to Succeed. Now more than ever, organizations with lean resources can use an encouraging helping hand and committed partner.
— Lauren Pradhan, Executive Managing Director for Grow North Minnesota
GET IN TOUCH WITH US
WANT TO WORK TOGETHER? US TOO.
Contact Us

>